Back to La Première
Easy To Make Halloween Hairstyles That Will Make You Look Bewitching
  Introduction Craft the best Halloween hairstyles Step into the enchanting world of spooky-chic transformations, where every strand tells a tale of Halloween magic! We will take you on a...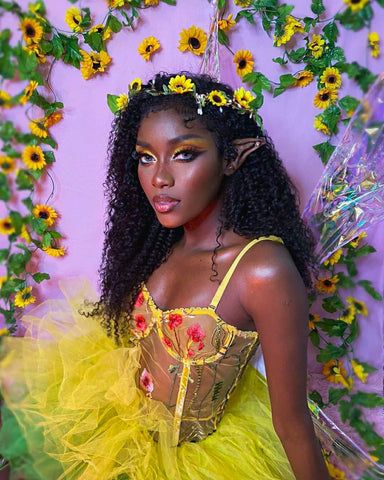 Introduction
Craft the best Halloween hairstyles
Step into the enchanting world of spooky-chic transformations, where every strand tells a tale of Halloween magic! We will take you on a transformative journey with some hair-raising hairstyles that you can style and make everyone take inspiration from you. Whether you're brewing up a wickedly whimsical look for a ghoulish gathering or conjuring a hair-raising ensemble for the most spirited soirée, we've got you covered. 
Join us as we unravel the secrets behind spine-tingling styles, from gothic updos to otherworldly waves. Let's embark on a hair-raising journey through the shadows, where your tresses become the canvas for all things eerie and extraordinary. Dare to dream, dare to dazzle, and let the hauntingly beautiful hairstyles cast their spell on you this Halloween!
80s Rockstar
Halloween hairstyle ideas
You can embrace the retro vibe of the neon-soaked 80s with the crimped hairstyle for Halloween. Add an electrifying edge to your spooky ensemble with those iconic zig-zag patterns. 
The Crimped Crown takes center stage, featuring teased and crimped locks piled high for a voluminous statement. For a punk-inspired twist, opt for the Rebel Ruffle, where sections of hair are crimped and teased for an edgy, textured look. 
The Cosmic Cascade channels futuristic vibes, with crimped waves cascading down, adorned with metallic accessories for an otherworldly allure. Don't forget the Side Swept Specter, a hauntingly elegant choice where crimped tendrils frame your face, evoking a mysterious allure. 
Modern Ariel
Channel the enchanting world of Ariel the Mermaid with Mermaid waves. Begin by creating loose, cascading waves that mimic the gentle undulation of the sea. Infuse hints of seafoam green and ocean blue highlights, or use human hair wigs from MyParfait and dye them in the desired color. Accessorize with seashell-adorned pins or a diaphanous netting reminiscent of the treasures found beneath the waves.
With this Ariel-inspired look, you'll radiate the spirit of the sea, making a splash at any Halloween gathering and leaving a trail of maritime magic in your wake. Let the waves of your hair tell a tale of enchantment and adventure this Halloween!
Braid It Like Wednesday Addams
The darkly charming aesthetic of Wednesday Addams is our next Halloween hairstyle. This hairstyle will effortlessly capture the timeless charm of the Addams Family's beloved daughter, Wednesday, making it a perfect choice for your Halloween festivities.
Begin by parting your hair down the middle to create two equal sections. Take the first section and begin a Dutch braid, starting from the crown of your head and working your way down. Incorporate small sections of hair into the braid as you go, ensuring it remains tight and secure. Repeat the process on the other side. Once both braids are complete, secure them with small, clear elastics. Gently pull apart the braids to create a slightly disheveled, lived-in look. Finish by adding a touch of hairspray for hold. Accessorize with a black ribbon or a Gothic-inspired headband with dark black lip color to complete the look.
Cat Women
Sharp your claws for your Halloween soiree
Elevate your Halloween look with a feline flair by donning a cat-inspired pointy hair buns hairstyle. This playful yet chic style channels the mysterious charm of a cat's ears, bringing an extra dose of enchantment to your costume. 
Begin by pulling your hair into two high ponytails, one on each side of your head. Twist and wrap each ponytail around its base to create a bun, securing it with bobby pins. Now comes the purrfect touch: craft small, pointed ear shapes from black construction paper or use pre-made cat ear headbands, attaching them to the top of each bun. 
For an added twist, consider adding subtle highlights or streaks to mimic a cat's fur. This whimsical hairstyle will have you embodying the feline spirit, making it a delightful choice for Halloween soiree. 
You can even try this look with MyParfait Very Wavy HD Lace Wigs. It will give you the perfect wavy hair to make this purrfect hairstyle.
Harley Quinn Pigtails
Try the iconic blue and pink pigtail hairstyle for a Halloween look that's as bold and vibrant as Harley Quinn herself. Begin by parting your hair down the middle and dividing it into two equal sections.
You can use blue and pink wigs to get the desired color scheme going. Next, gather each section into a high ponytail, securing them with hair ties. Tease and fluff the ponytails to add volume and texture. 
Finish by wrapping a black or colored ribbon around the base of each ponytail to tie the look together. With this Harley Quinn-inspired pigtail hairstyle, you'll be ready to unleash your mischievous side and take on the town this Halloween!
Spiderweb Updo
Capture the eerie elegance of Halloween with the Spiderweb Updo, a haunting hairstyle that weaves together sophistication and spookiness in a hair-raising fusion. 
To get the look, gather your hair into a high bun or updo, creating a central focal point. Using bobby pins, carefully craft a delicate spiderweb pattern around the bun, letting tendrils of hair radiate outwards like gossamer threads.
To complete the look, consider placing small plastic spiders strategically on the web, adding an extra element of surprise and creepiness. With this bewitching style, you'll weave a spellbinding web of mystery wherever you go this Halloween!
To Conclude
Hope this enchanting journey of some hair-raising, bewitching Halloween-inspired hairstyles found a place in your lookbook and gave you some inspiration to create your own. 
You will be amazed at how MyParfait wigs help you along the way to create these sensational hairstyles that will make your life so much easier.
So don't forget to check out more hair-inspiring wigs from our website and put some in your cart today!