Back to La Première
All You Need To Know About V-Part Wigs? FAQ Edition!
The V-Part wig is a cooler cousin of clip-in hair extensions that many people are not aware of, and they should know about it. They are convenient to wear and...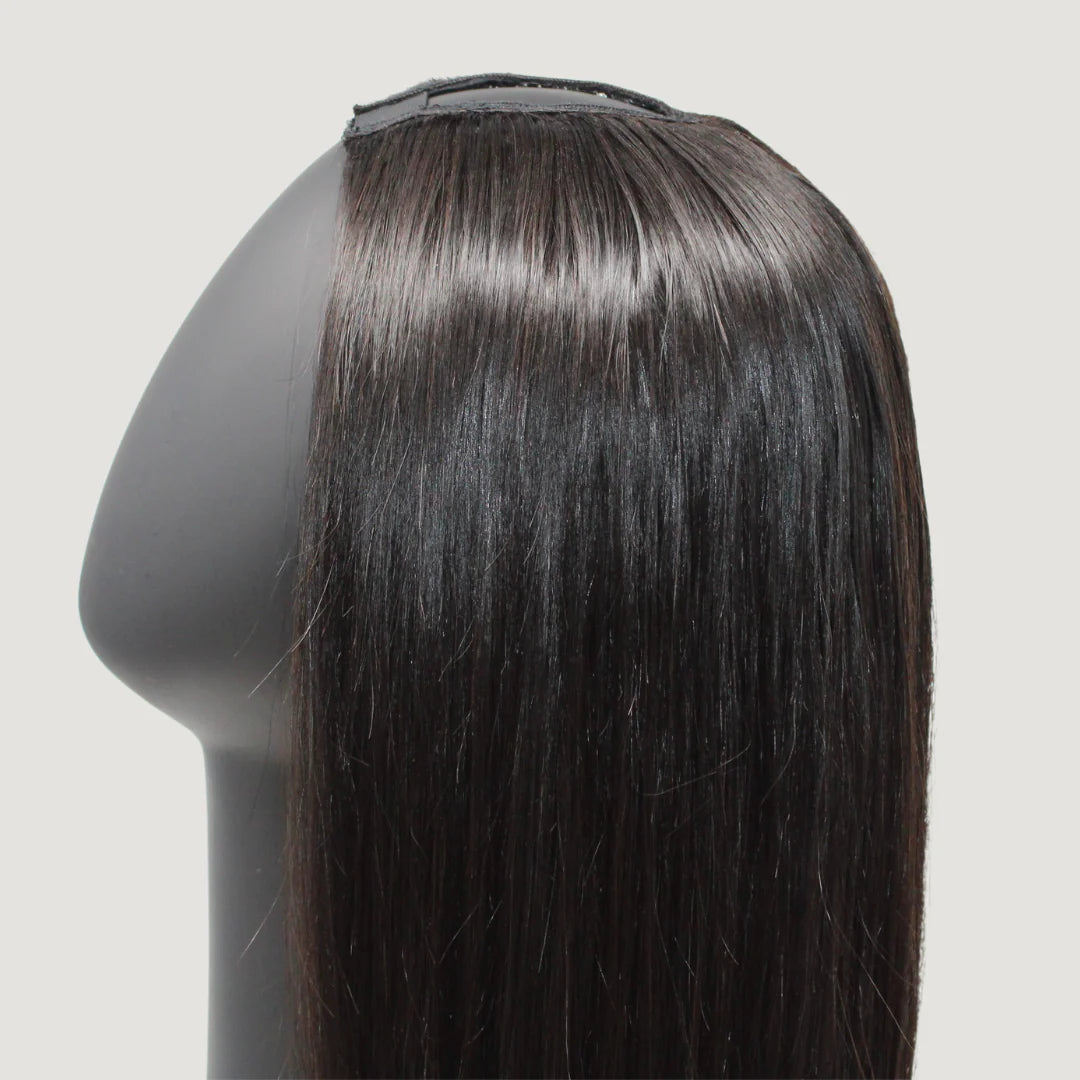 The V-Part wig is a cooler cousin of clip-in hair extensions that many people are not aware of, and they should know about it. They are convenient to wear and give maximum support when attached to natural hair.
But, many people are still new to the concept of V-Part wigs, which is why this is a mini guide for you to quench all your queries with this special FAQ edition.
So, let's get ready to learn all about V-Part wigs.
What Are V-Part Wigs?
V-part wigs are an advanced type of clip-in hair extensions that go by the V-part open portion on your scalp. The middle part is exposed in a V shape, and the rest of the weft hair is attached. The clips are at the bottom of the Weft and get easily attached to your hair.
These are glue-less wigs that function like clip-in hair extensions. The only difference is that they are one big piece like a fishnet altogether, just constructed in a V-shaped so that you get the maximum coverage and volume for yourself.
What Are The Benefits Of V-Part Wigs?
Since it has the V-Part exposed in the middle, your natural hair sprouts out from the scalp and gives the image that all this volume and bulk you are getting in your head is totally natural. Apart from that, they have multiple benefits.
Stronger grip
Secured wearability
Better coverage
Looks more realistic
Easy to store
How To Install V-Part Wigs?
V-Part wig is very easy to wear. Even if you are a beginner and have just entered the world of wigs and extensions, this wig will be the most comfortable for you to install by yourself and that too in a few minutes. Well, there are six basic steps to install V-Part wigs.
Comb your hair well.
Divide your hair into three potions: left, middle, and right.
Now tie the middle part in a braid and the other portions' starting edges in a cornrow, too.
Now, on the seams of the left and right side of your hair partition, attach the V-Part wig.
Untie the middle part and comb it down.
Now, with fingers or comb, make the texture even.
How To Style V-Part Wigs?
Just like you can style your natural hair, you can style your V-Part wig without partition restrictions. So you either want to create a bun, ponytail, or braids or keep them open. The V-Part Wig supports every kind of hairstyle in the best way possible.
How To Wash V-Part Wigs?
My Parfait V-Part wigs are made of a hundred percent natural human hair. Because of this, washing them is very easy. All you have to take care of is that while washing, you use sulfate-free products. To explain the washing process, you need to follow five easy steps.
Put your Vy part wig in the lukewarm water and soak it for two minutes 
Now add the sulfate-free shampoo to the hair strands and gently rub it with your fingers 
Then, wash it off in a basin or tub with lukewarm water.
Take a soft microfiber cloth and lay extensions on it to pat dry
Once the excess water is drained, you can let them air dry till moisture goes
What Is The Difference Between V-Part Wigs And Lace Wigs?
The lace wigs and V-part wigs serve the same purpose, which is to give length and volume to your hair. But when it comes to structure and application, the differences are as follows.
V-part wigs are temporary hair extensions. Whereas lace wigs are generally semi-permanent ones.
In the V-part wigs, your natural hair and scalp are exposed. In the case of lace wigs, your hair is generally covered under the lace.
A v-part wig is definitely a glueless wig. But, the lace wigs can and cannot be glueless ones.
V-part wigs are comparatively cheaper than lace wigs.
The frequency of wearing V-part wigs is usually more than lace wigs

.
Can We Reuse V-Part Wigs?
The V-part wigs are temporary extensions attached to your natural hair with clips beneath. So, like regular clip-in extensions, you can wear the V-part wigs repeatedly without compromising Quality. If maintained well, you can wear V-part wigs more than a hundred times!
My parfait V-Part Wigs
My party wigs are made of HD lace base customized according to your skin tone and head size for a perfect fit. My Parfait wigs come in different shades and have a ventilated cap for you to wear the wig all day without dropping a sweat. The wide range of My Parfait V-part wigs promises Quality, convenience, wearability and a great styling experience. These 100% human hair-made wigs respond very well to heat styling. So, choose the convenient and fashionable way of hairstyling with V-part wigs by My Parfait.